Dec 19, 2021
Serbia has been rocked by recent, mass blockades in the streets to challenge changes to the Law of Expropriation which would allow the state to take farm lands and other private property to open space for constructing mega projects and extraction like the proposed Rio Tinto lithium and jadarite mine in the Jadar Valley. This is building off of earlier ecological protests in 2021 against the building of private mini hydroelectric power plants along rivers in Stara Planina (aka the Balkan mountain range) threatening access to and health of drinking water. These protest in December forced the 12-year ruling Right-neoliberal SNS Party to backtrack and modify plans for the Expropriation and public Referendum laws and put an undefined pause on Rio Tinto's mine.
For the hour, we speak with Marko about those protests, the influence of western NGOs in politics, the Linglong Tire Factory scandal, labor and solidarity organizing with the Anarcho-Syndicalist Initiative of which hes a member and which is a part of the Internatioal Workers Association IWA-AIT and challenges faced by leftist anti-authoritarian organizers in former Yugoslavia. He also speaks about his experience of the covid pandemic in Serbia, the politics of anti-lockdown protests, anti-vaxers and the far right in general around Serbia, the impact of US-born neo-nazi Rob Rundo of the Rise Above Movement and Media2Rise who has returned to Serbia despite being deported to Bosnia and has been organizing fight clubs, international ties and solidarity between various fascistic groups around Belgrade.
Covid Mutual Aid in Serbia
Belgrade 6
Ecological Uprising
Labor Issues
Anti-Fascism
Announcements
B(A)D News Episode 51
The 51st episode the the A-Radio Network's monthly anarchist news roundup is online and ready to hear. Check it out!: https://www.a-radio-network.org/bad-news-angry-voices-from-around-the-world/episode-51-12-2021/
Phone Zap for Rashid
New Afrikan communist and Minister in the Revolutionary Intercommunal Black Panther Party, Kevin Rashid Johnson is being punished at Nottoway CI in Virginia and there's a call-in & email campaign starting on Monday, December 20th to get him:
That he be released from segregation and be given access to general population property and privileges
That he be put in an actual quarantine unit if quarantine is legitimate
That he not be subjected to a retaliatory transfer AND that his classification level NOT be raised as retaliation for beating the write ups/charges.
More at bit.ly/rashidzap122021
Phone Zap for Comrades Easley & Turner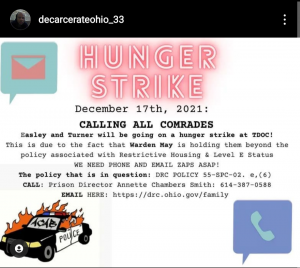 Call-in request for David Easley #A306400 & Frasier G. Turner #A753786 at Toledo CI in Ohio as they begin a hunger strike beginning 12/17/2021. Folks are asked to call Warden Harold May & ask why he is not following ODRC policy pertaining to Easley & Turner and others being held in ToCI Restrictive Housing Units beyond the policy associated with Restrictive Housing & Level E Status. Policy in question is DRC POlicy 55-SPC-02, e,(6)
Warden Harold May, ToCI(419) 726 7977drc.toci@odrc.state.oh.us
ODRC Headquarters contact form: www.odrc.gov/family
ODRC Director Annette Chambers Smith
(614) 387 0588
. ... . ..
Featured Tracks: