Nov 21, 2021
This week, Scott spoke with Eric A Stanley about their new book, Atmospheres of Violence: Structuring Antagonism and the Trans/Queer Ungovernable, which was just published by Duke University Press. Eric A. Stanley is an associate professor in the Department of Gender and Women's Studies at the University of California, Berkeley. In collaboration with Chris Vargas, they directed the films Homotopia (2006) and Criminal Queers (2019). Eric is also an editor, along with Tourmaline and Johanna Burton, of Trap Door: Trans Cultural Production and the Politics of Visibility (MIT Press 2017) and with Nat Smith, Captive Genders: Trans Embodiment and the Prison Industrial Complex (AK Press, 2015/11).
In this chat, they talk about racialized violence against trans/queer people as a foundational part of the modern US state; trace this in the formation of the US settler state and how it persists today. They also discuss the improvised ways trans and queer people learn and share survival tactics and thrive under these condition in order to envision a new world.
Announcements
Dan Baker Has Been Transferred
Anarchist and antifascist prisoner, Daniel Baker, who was convicted of transmitting threats while calling for anti-racists to show up in Tallahassee and stop a possible Trumpist coup received 44 months in prison and 3 years of probation. His legal defense is appealing and we'll be re-airing an interview with his support crew soon. Meanwhile, there's a great article by Natasha Leonard in The Intercept on the outcome of the case and we wanted to let you know that Dan has been transferred to FCI Memphis.
You can write him and send him books at:
Daniel Baker #25765-509
FCI Memphis
P.O, Box 34550
Memphis, TN 38184
United States
Note that he cannot receive photos or colored envelopes. You can find his book list plus a bunch of other info by visiting PrisonerSolidarity.Com and searching his name, alongside a bunch of other political prisoners of the so-called US & elsewhere.
Blue Ridge ABC Letter Writing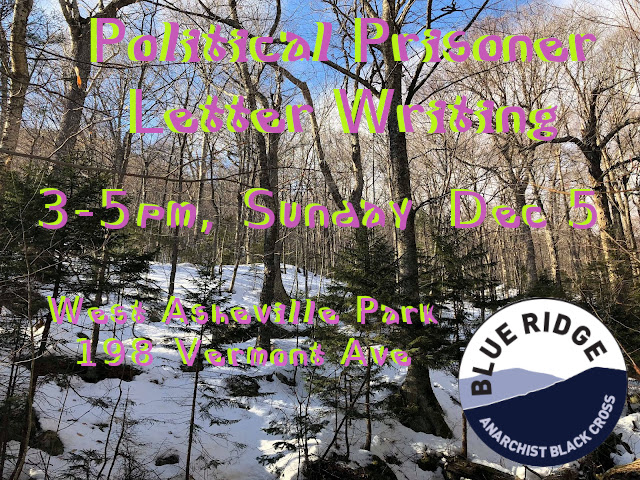 If you're in the asheville area, just a reminder that Blue Ridge ABC will be hosting a letter writing at West Asheville Park on the 1st Sunday of December, only THIS time it's from 3-5pm to handle the available natural light.
B(A)D News Episode 50
If you're looking for more anarchist perspectives, check out episode 50 of the A-Radio Network's BAD News: Angry Voices From Around The World. This November 2021 episode of our monthly offering features a shortened version of our talk with ASP, updates from Frequenz-A in northern Germany about the situation on the Belarusian and Polish border, Elephant In The Room from Dresden with updates on repression and resistance in Belarus, A-Radio Berlin sharing on the racist police killing of the migrant Giorgos Zantiotis in a Wuppertal jail cell and resulting protests and Crna Luknja from Lubjlana talking about the refugee situation in the Western Balkans.
. ... . ..
Featured Tracks:
Dicks Hate The Police by Dicks from Kill From The Heart
Riot (prod by Gobby) by Mykki Blanco from Cosmic Angel: The Illuminati Prince/ss