Dec 15, 2019
Little Village Solidarity Network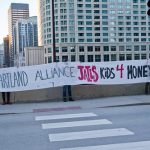 This week on The Final Straw Radio, I'm happy to share a conversation with Rozalinda, Pura and Lynn from La Villita Red de Solidaridad or the Little Village Solidarity Network in so-called Chicago, IL. LVSN, in the English-language acronym, is an autonomous community organizing project based in La Villita or Little Village neighborhood and networks with other residents of the area. If you're listening to the podcast or online version of this episode, just an fyi that there is cursing, but compared to putting babies in jails which offends more?
In the first hour, LVSN members talk about organizing on the ground against Heartland Alliance, a 501c3 non-profit running baby jails for federal funding (they call them shelters) around Chicago, in coalition with the Chicago Catholic Arch-Dioecese. Soon, at our website, on youtube, spotify and other sites we offer a 2 hour version of this conversation, including our Sean Swain segment and LVSN comrades' words directed at people resisting detention facilities around the country.
LVSN also speaks about the case of Jose, a young father who was in these facilities and faces deportation currently from Texas where his family is. Information about Jose's case and how to support him can be found, alongside more info about the work of LVSN, on their fedbook page and twitter account or at their website, lvsolidaridad.com.
In an update to Jose's situation, he has gotten a stay of deportation. You can donate to his case via the lvsn venmo (@lavillitasolidaridad) or paypal to rborcila@yahoo.com. You can see and hear Jose in his own words in testimony on vimeo talking about what kids on the inside experience noise demos outside and the sense of desperation of the youth inside. And here is another of Jose describing the experience of staff attempting to extract information about his loved ones by Heartland Staff, in particular how it's experienced by children in the jails.
. ... . ..
Keep an eye out in our podcast stream, website and social media for a link to the latest episode of BADNews, angry voices from around the world. BADNews is a 2 and a half year-running, collaborative, monthly anarchist news show in English with participation by anarchist radio and podcast projects from around Europe and all over the so-called Americas, North, South and Central. Find our back episodes up at a-radio-network.org.
. ... . ..