Jan 1, 2023
I'm sure that many people coming out of this holiday season, returning from visiting relatives will wonder: "couldn't we abolish the capitalist family structure?" We've got great news! We're happy to present this conversation between Scott and Sophie Lewis, author of Abolish The Family: A Manifesto of Care and Liberation.
In this episode, Sophie speaks about the book, the ideas and inspirations she's pulling from, the critique that the family form not only passes property and generationally allows concentrations of it, but simultaneously limits our horizons of care to these small, private and often abusive relationships. Here we also find ideas of Child Liberation, a challenge to the state form and capitalism, and an invitation to imagine beyond what we've been taught is the natural nucleus of human relationships in what turns out to be a long lineage of ideas cast back through Black feminisms of the 70's and beyond.
Anyway, there was a lot here and we hope you enjoy. For a related chat, check out Scott's July 10, 2022 interview with Sophie on the show, and you can find more recordings and essays at her site, LaSophieLle.org and support her freelance writing on her patreon.
Next Week…
Stay tuned next week, possibly for a chat between Scott and Rhiannon Firth on their recent book, Disaster Anarchy: Mutual Aid and Radical Action.
Announcements
Blue Ridge ABC Letter Writing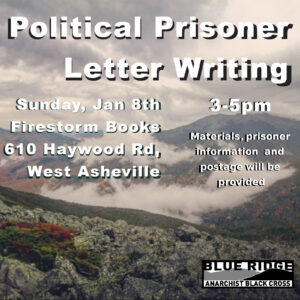 If you're in the Asheville area, Blue Ridge ABC will be hosting a letter writing at Firestorm Books on Sunday, January 8th from 3-5pm. Usually, this'd take place the first Sunday of the month but that'd fall on New Years Day and that didn't feel realistic.
Colombia Freedom Collective
There is an urgent fundraising appeal from the Colombia Freedom Collective as trails approach for the Paso Del Aguante 6, political prisoners from the uprising against police impunity and murder in 2021. You can learn more at ColombiaFreedomCollective.org
. … . ..
Featured Tracks:
It's Like Reaching For The Moon by Billie Holiday from Lady Day: The Complete Billie Holiday On Columbia 1933-1944 (CD1)
War Within A Breath by Rage Against The Machine from The Battle of Los Angeles